Family Overview
Mood:
caffeinated
Now Playing: Donna, Susan, Heather, Robin.... our mother and our children
Topic: Brief Overview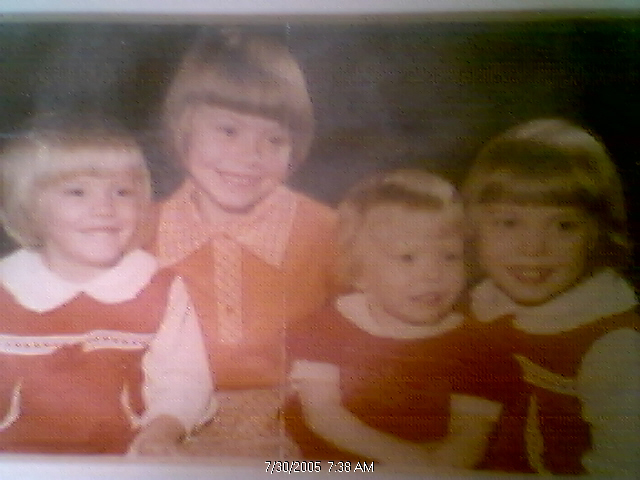 In the late 1960's our mother met and married our father. We were all born in Philadelphia, PA. Donna was born in 1966. Susan was born in 1969. Heather was born in 1970. Robin was born in 1972.
We moved to Rhode Island (where my mother grew up) in 1979. Our lives were filled with the usual trials and tribulations of many families...and I'm even guessing we've been "blessed" with some...unique situations as well. ;-)
Donna met her husband, Joe when she was about 13. They lost touch for a few years...but once reunited...they realized that they were right for each other. They married in 1994...and have two children, Brianna and Justin. Donna also has a step-son named Josh.
Susan met her husband, Joe in the late 1980's. Ironically...they were at odds with each other... until they realized that there were feelings between them. They married in 2000. They have a son, Garrett. Susan miscarried a son named Nathaniel Louis, in 2003. We won't forget him.
Heather married Brian in 1995. She and Brian share a daughter... Laura. Unfortunately, the marriage did not work out...but Heather and Brian are closer now...(as friends) than ever before. Heather met Frank in 1999. Frank has a son from a previous marriage as well. His name is Josh...he's just about the same age as Laura.
Robin had her first son, Stephen on June 6, 1991. (Prom night...lol). She went on to college and had three more children...but has never been married. Yes...I'm the youngest...and have the most children! Go Figure! lol.
Our mother got her Nursing Degree in 1979. She worked at RI Hospital for a few years. She later went to work at Women & Infants Hospital. She later returned to school and recieved her Mid-wife certification. She now works at St. Lukes Hospital in New Bedford as a Mid-Wife.
We've had our ups and downs... but I'm happy to report that things seem to be going well for all of us. ;-) I'll post more at a later date. Take Care, Robin



Antonio Vivaldi Adagio-Summer.

Posted by rchessmann at 8:15 AM EDT